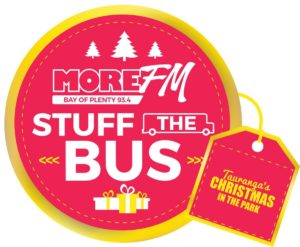 This is the Bay's chance to come together this Christmas and help locals who are finding it tough.
Help us Stuff the Bus with labelled presents (with the age and gender the present is suitable for) and non-perishable food for local Bay charities in the lead up to Tauranga's Christmas in the Park on December 9th.
We've got the bus, thanks to UZABUS. It's on the streets of the Bay from November 20th to December 9th.
Check the full schedule below to find out when it's near you and come along with your donation.
Charities that will receive donations include: Womens Refuge, Homes of Hope, Good Neighbour Trust and Shakti Womens Refuge.
Thanks to a stack of local businesses for their support including: First Credit Union, Pak n Save, Signature Homes, Pacific Toyota, Tauriko Business Estate, Stratus Blue, Downtown Tauranga, Gerrand Floorings, Guild + Spence and Base Up.
The locations:
Monday 20 November – Mediaworks, 168 Cameron Road – 9-12 noon
Tuesday 21 November – Tauriko Pak n Save. 2 Taurikura Drive, Tauriko – 9-12 noon
Wednesday 22 November – Downtown Tauranga, Red Square – 9-12 noon
Friday 24 November – Tauranga Bridge Marina – 10am-1pm
Sunday 26 November – Papamoa Christmas Parade, Papamoa Plaza – 10am-2pm
Monday 27 November – Papamoa Pak n Save, 42 Domain Road, Papamoa – 1-4pm
Tuesday 28 November – First Credit Union, 33 Totara Street – 9-12 noon
Wednesday 29 November – Tauriko Business Estate, corner of Whiore Pl & Taurikura Dr 9am-12 noon
Base Up, 43 Poturi Street – 12.30-3.30pm
Friday 1 December – Gerrand Floorings, 123 Hewletts Road, Mount Maunganui – 8-11am
Saturday 2 December – Tauranga Christmas Parade, Devonport Road – 10am-2pm
Sunday 3 December – Tauranga Pak n Save, 476 Cameron Road – 9-12 noon
Tuesday 5 December – Stratus Blue, 116 Third Ave – 9-12 noon
Signature Homes, 150 Fraser Street – 1-4pm
Wednesday 6 December – Pacific Toyota, corner Cameron Road and Elizabeth Street – 7.30-8.30am
Friday 8 December – Guild and Spence Electrical, 48 Hull Road, Mount Maunganui – 9-12 noon
Saturday 9 December – Tauranga'sChristmas in the Park, Blake Park, Mount Maunganui – 9am-8pm
For more details visit the MORE FM website.