Hire a Bus to transport your group from A to B with our Bus hire/Charter service. Our fleet has everything from 10 seat Mini Vans right up to 61 seat coaches*. With Depots in Tauranga, Katikati, Whakatane, Opotiki, Palmerston North and Paraparaumu we have most of the North Island covered for your Bus Charter needs!
---
Bus Hire – Our Fleet of Charter Coaches
Luxury Charter Tour Coach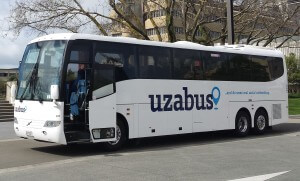 Our luxury charter tour coaches have added comfort, capacity and style. Passengers can watch a favourite DVD or listen to music while travelling to their destination.These coaches feature air- conditioning, microphone (Driver/Courier), CD and/or DVD player, large luggage capacity and overhead luggage racks. Ideal for Corporate charters, Wedding Transport or Tours.
Standard Coaches / Charters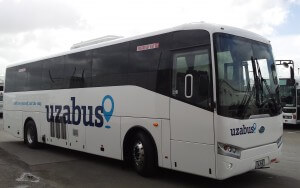 Our quality Charter coaches range from 25 – 61 seats designed for single or multi-day trips with comfortable seating, air- conditioning, microphone (Driver/Courier), CD and/or DVD player and luggage capacity. Ideal for Wedding Transfers, Sporting Transport or School Trips requiring extra luggage capacity.
Commuter Bus / School Charter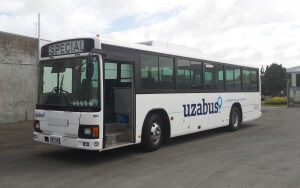 43-45 seaters (with standing capacity to hold up to 60 secondary students) Late model school/commuter buses. Low entry and floor for easy access. The school charter buses have limited luggage space, but have plenty of standing room. These Buses for hire are Ideal for local school trips, group transfers etc.
Mini Van Hire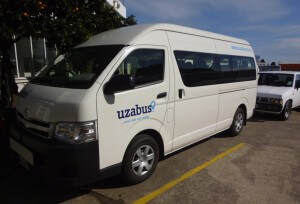 A Bus too large for your group? We have 10-14 seater* vans available for hire or if you want to sit back and relax one of our professional drivers can take you where you want to go.  Trailers are also available for those trips where plenty of luggage space is needed. Mobility Vans are also available in selected areas for hire to help those with wheelchairs. (Please enquire about the availability of Vans for hire at your location)
*more than 12 seats requires the driver to hold a P Endorsement – Uzabus can provide a driver.
Vehicle Lease
Need a van or bus for your school or organis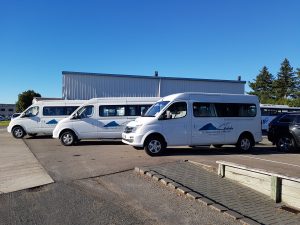 ation but do not have the capital to purchase? Uzabus offer long term non-maintenance and full maintenance operating leases.
These are essentially agreements to hire for a fixed period of time. During the term of the lease, you will pay a set monthly rental based on how many kilometres you estimate that you will travel during the term of the lease. You can decide if you wish to service the vehicle and cover running costs (non-maintenance operating lease) or Uzabus can service the vehicle, pay Road User Charges, Registration Fees, Warrant and Certificate of Fitness and Insurance premiums full maintenance operating lease). At the end of the lease period, you return the vehicle to the Uzabus and as long as the mileage is within the range set within the contract, there will be no further payments required from you.
Operating leases are great for easing cash flow. There is no need for a large initial deposit and payments are tax-deductible.
---
Based in Tauranga, Whakatane, Palmerston North and Paraparaumu New Zealand, Uzabus operates nation wide. Whether it is a bus charter for a team-building event, school trip or transport for your wedding, you are guaranteed a comfortable ride with our team.
Coach hire is easy to arrange with Uzabus, you can simply Request a Quote online or contact your local branch for your obligation free quote.
*Vehicle loadings may vary depending on location.